Which US States Should Expect Flash Floods & What to Do About Them?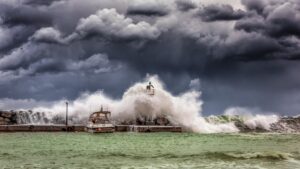 Did you know more than 70 people in the US died from sudden flooding and heavy rainstorms in 2021?
Most flood-related deaths occur due to flash flooding, which happens after a few minutes or hours of heavy rainfall, sudden release of water from an ice jam, or a dam failure. In August 2021, flash floods hit a broad strip of the country, resulting in a power cut in Rhode Island and excessive flooding in Middle Tennessee.
We'll discuss everything you need to know about to keep yourself and your family protected from flash floods in this post.
But first…
Which US States Should Expect Flash Floods?
Considering how hazardous flooding can be, you'd be curious to know if your area is at risk for flash floods.
We hate to break it to you, but flash flooding can occur in all 50 states. Furthermore, it can happen anytime during the year, regardless of the season.
Hence, you must know your risk and monitor the weather and weather forecasts carefully. You can get a better idea of the risk of flooding in your area by using the online resources available at the Federal Emergency Management Agency.
Additionally, you can benefit from the Emergency Alert System, as it'll share updates regarding emergencies in your area. You'll get a flash flood warning if a storm is incoming or underway. Furthermore, you'll get notified of flood watch if there's a possibility of flooding in your area.
How to Prepare for Flash Floods
First and foremost, you must analyze and discuss where you live concerning a body of water that may be susceptible to flooding. Determine how high up your house is if there's a small stream nearby.
Things to Look Out for
– Flash Flood Watch
This notification indicates that flash flooding is possible within the watch area and so you must stay alert.
– Flash Flood Warning
This warning tells that flash flooding has been reported or is underway in your area. This is when you must take precautionary measures immediately to ensure you and your loved ones stay safe.
– Urban and Small Stream Advisory
This indicates that flooding of a small water stream, street, or low-lying area has been reported. It could be happening in urban storm drains or railroad underpasses.
– Flash Flood Statement
This reveals follow-up info regarding a flash flood.
Action Steps
You should follow one basic rule to stay safe in the event of flooding: stay away from the waters and try to reach the higher ground as soon as possible.
As soon as you receive a flash flood watch notice, you must prepare to evacuate. If a warning is issued and you're told that flooding is imminent, you need to act quickly to stay safe. A warning means you might have no more than a few seconds to take action.
Below are a few tips to help you in this situation.
Get yourself and your loved ones out of the danger area. This may include low-level spots, dips, basements, tunnels, and regions surrounded by small streams.
Aim to go to a region that's not subjected to flooding.
Do NOT try to jump or ride overflowing streams. You must avoid going near areas that are already flooded or have a high-velocity flow.
If you're in a vehicle, bear in mind that the road beneath the floodwaters may not be intact. Driving through flooded roadways is a huge risk – you can never tell the depth of water. Make sure you turn around and take a different route.
If your car gets stuck, get out immediately and run towards higher ground. You might get wet, but it's better than compromising your safety. Often, during flooding, rapidly rising water tends to engulf vehicles and sweep them away.
Be extra vigilant and careful at night when you can't see the signs of flooding clearly.
Do NOT try to swim or walk in floodwater. Hazardous materials may have polluted the water or power lines may have fallen. Moreover, you may not have a clear idea of how fast the water moves, so there's always the risk of being swept away by the flood. Lastly, there may be holes or debris on the road underneath.
Expert Water Damage Restoration Services – 911 Restoration of Grand Rapids
If you own a property in Grand Rapids, you should be prepared to deal with water damage all year long. Your house will need extensive water damage restoration services after a flash flood wrecks it.
911 Restoration of Grand Rapids is here to take care of your property restoration needs after flooding. Our experts will inspect the site for free and devise an effective action plan to extract water and dry out everything to revive your house to its former glory.
Feel free to call us for more information regarding our water damage restoration services.