About 911 Restoration of Grand Rapids
Meet the Owner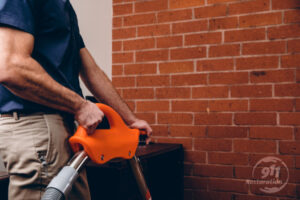 911 Restoration of Grand Rapids is a full-service property restoration company owned and operated by Joe Vallade. While 911 Restoration has over 30 years of experience with all kinds of restoration services, every one of our branches is locally owned and operated. That allows us to offer you the best of both worlds: the respect and experience of an established brand, as well as attention to detail and exceptional customer service only a local business can provide. 
Originally from Central Michigan, Joe lived in Savannah, Georgia for several years before moving back to Michigan in 2019. He moved to Georgia to serve in the military, so he understands discipline and respect. Afterwards, he owned a successful home service franchise in Georgia for ten years before selling it. He then owned and operated a home restoration business, where he had direct experience with mold and water damage in Georgia. 
Now back in Michigan, Joe is ready to bring that experience and dedication to 911 Restoration of Grand Rapids. If you have water damage to your home or business, you won't have to wait for fast, effective service. We offer restoration after a fire, flood, sewage backup, mold infestation, or other emergency affects your building. Joe's military background trained him to act quickly during an emergency, and his background in home repairs gave him experience with all kinds of property damage. 911 Restoration is open 24/7/365, and we guarantee an IICRC certified member of our staff will be at your door within 45 minutes after disaster strikes. Call 911 Restoration if your Grand Rapids property experiences damage any time of day or night. 
Trained Professionals When It Matters Most
While living in Georgia, Joe and his family enjoyed outdoor activities like boating. Now residents of Michigan, he and his two daughters appreciate the natural beauty of the area's lakes, rivers, and forests. Joe and his wife of fifteen years are homeowners in Michigan, so they have experience navigating the challenges that living in the area brings. Property owners in Michigan have to deal with proximity to water, long, harsh winters, and hot, humid summers. If snowfall causes your roof to leak, or a pipe bursts and dirty water floods your property, our knowledgeable staff at 911 Restoration of Grand Rapids will handle it quickly and efficiently. 
If humidity causes mold to infest your property, our experts inspect it to put your mind at ease. If we find mold, our team of specialists guarantees a safe and effective removal. After we find and contain the damage to your property, we repair and replace any affected materials. Our certified technicians then clean and disinfect the entire area. We know cleanliness has never been more important for your family or business, so we follow all CDC and EPA protocols.
You're a property owner. A disaster doesn't just hurt your building; it affects your way of life. 911 Restoration of Grand Rapids is here to help you find a Fresh Start after an accident or unexpected event disrupts your livelihood. We work with your budget so repairs won't cost a fortune, and we offer free visual inspection for property owners. As a seasoned business owner with decades of experience in home restoration, Joe appreciates 911 Restoration's user friendly approach to our customers. Because we're open 24/7, one of our agents is always available to answer any questions or concerns you have. We work with all insurance companies, and we'll even handle your claim for you. The last thing you need after an upsetting experience is more stress. That's why our friendly team at 911 Restoration of Grand Rapids puts the customer first. 
Committed to Offering You A Fresh Start in Grand Rapids
As a local business owner, Joe wants to see his community grow and succeed. That means listening to the concerns of property owners like you, and helping you through a difficult time. When your home or business experiences the worst, our staff at 911 Restoration wants you to have the best experience when it comes to restoration. Our job isn't done until your property is in its best shape yet. We offer all of our customers a Fresh Start, so your business and family can thrive. 
As a business owner and family man, Joe believes 911 Restoration's attention to detail and our care and compassion for the customer set us apart from our competitors. For full-service repairs from a local expert you can trust, call 911 Restoration of Grand Rapids today.
If you live in Grand Rapids, Wyoming, Muskegon, or any of the other cities in Grand Rapids, then you can depend on 911 Restoration to provide you with water damage restoration, mold removal, sewage backup cleanup, fire damage restoration, and disaster restoration services. The office is open 24/7/365 and technicians guarantee to respond to calls regarding water emergencies within 45 minutes. The entire water mitigation company is IICRC certified and licensed, bonded, and insured for your protection. Whether you own a residential or commercial property, our technicians will administer the repair work needed to restore your home or business completely.