Commercial Water Damage Restoration in Grand Rapids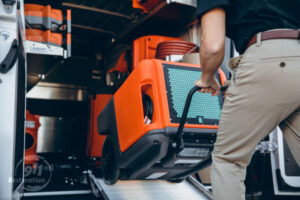 Commercial properties are just as susceptible to becoming affected by water damage, fires, sewage, and natural disasters as residential properties are, making it crucial for property owners to implement maintenance all year round.
The climate in North Carolina lends itself to creating flood damage and mold infestations, which are issues that 911 Restoration are experts at remediating.
If you find yourself dealing with a water emergency, you can call our water mitigation company, and they will send technicians out immediately to implement commercial restoration services. The repair techs are available 24/7/365, and they guarantee to respond within 45 minutes to begin same-day, water damage repairs.
Customers can trust us with their commercial buildings due to our IICRC certification and the fact that we are licensed, bonded, and insured for your protection. Not only are we more qualified than the other flood cleanup companies, but our technicians have decades of experience.
So, call 911 Restoration of Grand Rapids when you need commercial restoration in Grand Rapids, and our highly trained technicians will give you the peace of mind you need to get through any property disaster.
Around The Clock Commercial Water Extraction And Drying Services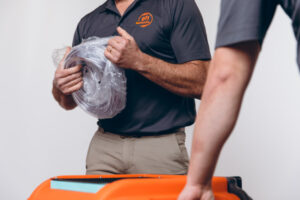 Water damage is the most common issue that owners of commercial properties have to deal with regularly.
Pipe bursts cause indoor flooding, storms create ceiling leaks, and clogged toilets can cause raw sewage spills, which are all issues 911 Restoration of Grand Rapids can mitigate with commercial restoration services.
When water damage invades your property, it is imperative to remove the moisture as soon as possible. Otherwise, your building may be at risk of encountering mold, wood rot, and warping. This is especially true for drywall with water damage since the porous material clings to moisture so well.
Technicians will use powerful machines to extract the bulk of the water and then go in with air movers and dehumidifiers to get rid of any lingering moisture. If the drywall cannot be thoroughly dried out, then repair techs will remove and replace it with new sheetrock.
Customers can count on us for expert water removal grand rapids, local restoration, and cleaning services that will get your commercial property dried out and repaired completely.
Call 911 Restoration of Grand Rapids as soon as you notice plumbing leaks, water stains, or signs of mold, and you will receive immediate assistance from a team that cares and understands your needs as a commercial property owner.
Understanding Your Commercial Property Insurance
The biggest question that customers have when they need commercial restoration in Grand Rapids is regarding the cost to mitigate a water intrusion.
The staff understands that it can be confusing to decipher your insurance policy on your own, especially if you have never had to file an insurance claim before.
We don't want you to have any concerns regarding the financial side of the commercial restoration process, so a staff member will provide you with a free insurance consultation to help determine the coverage you are entitled to receive from your insurance provider.
Technicians will also give property owners a free visual inspection as soon as they arrive on the scene so they can give you a proper estimate of the repair work needed to recover your losses. The assessment is meant to ensure that you are comfortable with the situation before any restoration work begins.
Customer service is the top priority of the entire organization, and we hope that by providing this level of assistance, you will feel content with the commercial restoration services you receive. The project manager will be in touch with you every step of the way to guarantee your satisfaction.
Call 911 Restoration of Grand Rapids as soon as you have any questions regarding water damage restoration, mold removal grand rapids, sewage cleanup, or disaster repairs, and our staff will help you see how any of these issues can be transformed into the Fresh Start you deserve!
Serving the communities of Wyoming, Reed City, Remus, Rockford, Rodney, Sand Lake, Sears,Six Lakes, Sparta, Spring Lake, Stanwood, Trufant, Walkerville, West Olive, White Cloud, Zeeland and surrounding areas.