Mold Removal in Grand Rapids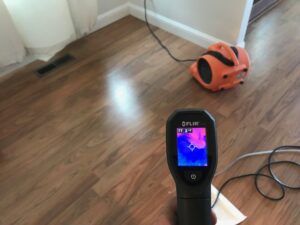 The hot summers of Grand Rapids make it easy for mold spores to grow rampantly inside the homes and business in the community, especially if there is any water damage present.
Unmitigated leak and flood damage can lead to mold infestation within 24 hours, which is why 911 Restoration of Grand Rapids is always standing by to schedule an appointment for a free mold inspection.
Technicians provide property owners with a free mold inspection not only as an act of excellent customer service but to ensure that they find every trace of mold and water damage inside the home or business. Any lingering moisture can grow mold, as long as there are dormant spores present, making these initial mold inspections crucial to the restoration process.
When you hire 911 Restoration, you can be sure that you are working with a water damage company that excels at both mold and water damage restoration grand rapids, two issues that typically go hand-in-hand. Technicians make structural drying and dehumidifying techniques a part of the mold remediation process to make your property unconducive to hosting mold.
Call 911 Restoration if you live in Wyoming, Muskegon, Holland, and anywhere else in Grand Rapids, and notice signs of mold or water damage in your property. Our repair techs will make sure you receive the mold remediation services needed to remove every spore from the premises.
Expert Water And Mold Restoration Services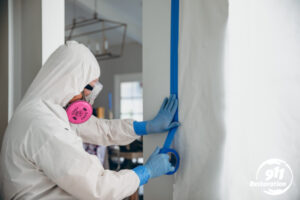 Summertime in Grand Rapids brings with it warm temperatures, higher than usual humidity levels, all which combine to create the ideal environment for mold to grow.
Even if you keep your indoor temperature low, the sun can beat down on your property's exterior, causing heat to transfer into your walls, creating condensation. Mold can grow within this moist, warm environment at an alarming rate, often without you seeing it until it has spread throughout the walls for an extended period.
When technicians are called to perform a mold inspection, they will check in all these hard-to-see places, such as inside walls and attics and underneath sinks and floorboards, to determine the source of the mold and eradicate it completely.
If technicians discover that water damage is the cause of the mold growth, then they will administer speedy water damage repairs and dehumidifying services during the mold remediation, ensuring that your property is as dry as possible when they are finished.
It is crucial to work with a restoration company that is as fluent in water damage as they are in mold. So, call 911 restoration locations to receive comprehensive mold removal services in your home or business today!
A Water Mitigation Company That Specializes In Mold Remediation
As mentioned before, the technicians at 911 Restoration are experts at mitigating both mold and water damage issues in both residential and commercial properties.
It can be concerning to learn that you have mold growing inside your home or business since most property owners are hyper aware of the appearance of "black mold" on their walls and ceiling.
Repair techs will pack-out and store your belongings until the mold removal job is complete. They will also thoroughly go over every surface to ensure that no spores are left behind to cause future infestations.
So, call 911 Restoration of Grand Rapids to decontaminate your property after an infestation has been discovered. You can trust in our technicians to turn your mold problem into a Fresh Start.
Serving the communities of Wyoming, Reed City, Remus, Rockford, Rodney, Sand Lake, Sears,Six Lakes, Sparta, Spring Lake, Stanwood, Trufant, Walkerville, West Olive, White Cloud, Zeeland and surrounding areas.