Disaster Restoration in Grand Rapids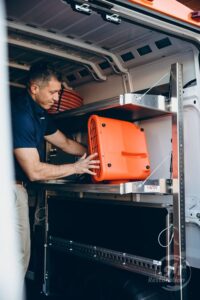 Over the years Grand Rapids has felt the impact by natural disasters that are mainly in the form of torrential rainfall, strong winds, and flooding incidents, all scenarios that can create severe structural and water damage in homes and businesses.
When your property feels the brunt of a disaster of any kind you can call 911 Restoration to receive advanced disaster restoration services from a water mitigation company that does it all.
Whether you find yourself dealing with a tornado, thunderstorm, fire, grand rapids flood, or sewage overflow, the technicians at 911 Restoration are trained and experienced in mitigating any damage you may incur.
The office is open around the clock, with technicians available 24/7/365 to assist you with your water damage grand rapids. No matter what time you call, they guarantee to respond within 45 minutes of receiving your call reporting a water disaster.
The entire organization is IICRC certified to administer disaster restoration services on both residential and commercial properties, and is licensed, bonded, and insured for the protection of our customers.
Call 911 Restoration of Grand Rapids when you need immediate water extraction, drying and dehumidifying services, and structural repairs after a disaster has hit. Our repair techs will fix up your property quickly so you can move on with your life today!
Recovering From The Effects Of Thunderstorms
The amount of rainfall created by a thunderstorm can be extreme, sometimes causing rising lake and river levels to the point of overflow, which can then flood your property and cause substantial water damage in Grand Rapids.
Thunderstorms are usually the precursor to a tornado, an even more destructive weather pattern that can flood buildings, rip off roofs, move vehicles, and throw large debris into your property.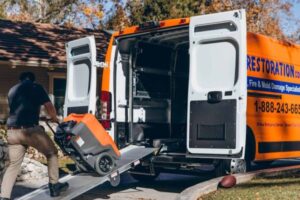 It is also not uncommon for hail to form. As a result, these storms not only can damage your property's roof and siding but seep into cracks and other imperfections, causing home water leaks and drywall with water damage.
As intense as these disasters may seem, property owners can stay calm knowing that they have a water mitigation company a phone call away that is prepared to initiate a repair strategy that will recover your losses and leave your home looking better than new.
By using state-of-the-art, disaster restoration technology, technicians will remove the bulk of the flood water with professional sump pumps and remove any lingering moisture with air movers and dehumidifiers.
Getting your property as dry as possible is crucial to the recovery process and will prevent mold from growing amongst the flood damage. So, call 911 Restoration of Grand Rapids as soon as a storm has impacted your property, and our technicians will arrive quickly to give you the peace of mind you need to get through any disaster.
Complete Disaster Restoration You Can Trust
Along with tornado and storm disasters, there are other situations in which you may find yourself needing disaster restoration in Grand Rapids.
You may experience a kitchen fire, a septic tank burst, a roof collapse, or a flooded laundry room, all situations that call for emergency restoration assistance.
In the event that you do need immediate assistance, you can rely on 911 Restoration of Grand Rapids to always be available. Technicians are always standing by because they know that when disaster strikes, there is no time to waste.
By providing prompt water removal, local restoration, and cleaning services, technicians hope to keep their customers feeling calm and positive throughout the entire remediation process. Customer service is key in these situations, and our staff is always available to answer questions.
If you need help figuring out your insurance policy, then a staff member will provide you with a free insurance consultation where they will help you determine your coverages and submit your insurance claim.
911 Restoration of Grand Rapids cares and understands your needs. So, call their highly trained technicians today, and they will turn any disaster into a Fresh Start for you and your family!
Serving the communities of Wyoming, Reed City, Remus, Rockford, Rodney, Sand Lake, Sears,Six Lakes, Sparta, Spring Lake, Stanwood, Trufant, Walkerville, West Olive, White Cloud, Zeeland and surrounding areas.