Fire & Smoke Damage Grand Rapids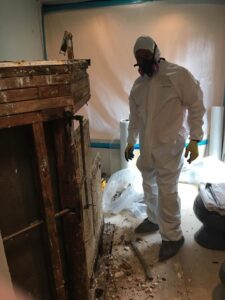 Fires can engulf a property within five minutes, but the fire and smoke damage can leave a permanent impression unless you reach out for fire cleanup services immediately after the flames have been extinguished.
When you need fire damage restoration you can reach out to 911 Restoration and expect to receive high-quality, repair services that will not only address the fire and smoke damage but any water and structural damages that have been created as well.
911 Restoration of Grand Rapids is considered to be a reliable fire information center that staffs technicians who are experts in executing fire and smoke restoration in both residential and commercial properties.
The organization is IICRC certified to provide complete property restoration and is licensed, bonded, and insured for your protection. Technicians act quickly as not to let the smoke, soot, and ash sit on the surfaces of your property and create permanent damage. 
Customers can trust that repair techs will respond with a sense of urgency to begin the fire cleanup process. We will give property owners a free fire damage assessment to determine the extent of the damage and formulate an estimate. 
The sooner we begin the fire damage restoration, the quicker you can get your life back to normal. So, when you need full-service, fire cleanup and smoke removal in your home or business, call 911 Restoration of Grand Rapids today!
Fire, Water, And Mold Restoration Services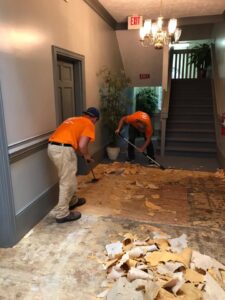 While flames can cause extensive fire and smoke damage, the fire department may inadvertently create water damage during the extinguishing process when they flood the property with their fire hoses.
Many property owners are shocked at the amount of flood damage left in their homes, which can sometimes be even more severe than the fire itself. When this water damage is left to sit inside the property, mold can begin to grow from the ashes, creating an entirely new problem in and of itself.
When you hire the technicians at 911 water restoration, you will receive help from a team of professionals who are experts in remediating water, fire, and smoke damage, as well as administering mold removal grand rapids.
Our repair techs have been in the industry long enough to know that fire cleanup is so much more than removing ash, soot, and smoke and we are proud to be able to offer all of these restoration services so customers can have total peace of mind knowing that we will take care of you completely. 
We have experience removing fire damage with soda blasting as to not harm your belongings anymore than they have already been. Technicians will remove soot and ash from all areas of your property, even cleaning your dishes if need be.
The more thorough the technicians are at cleaning away smoke stains and ash particles, the easier it is to dissipate the foul smoke smell that can permeate a building after a fire. Call 911 Restoration of Grand Rapids to ensure that your property is entirely restored after a fire, and we guarantee to leave it smelling fresh and clean.
A Water Mitigation Company That Specializes In Fire Damage Restoration 
It is crucial that the restoration company you work with to administer the fire cleanup is also fluent in repairing water damage since the two almost always go hand-in-hand.
When property owners hire 911 Restoration of Grand Rapids, they can be sure that the repair workers will address every aspect of the fire damage, including insurance help.
If you are unsure about what coverage your insurance policy offers, then a staff member will provide you with a free insurance consultation. We will go over your plan with you to help determine what financial help you are entitled to receive so you can keep your out-of-pocket expenses low.
Technicians will assist you with making an inventory list and sending over your lost itemization, so your insurance provider has all the information it needs to cover all your losses. Anything you need to help make this process go smoothly; you can count on us to provide.
Call 911 Restoration of Grand Rapids as soon as the fire department leaves the premises and technicians will begin working on a repair strategy that will give you the Fresh Start you deserve today!