Sewage Backup and Cleanup Grand Rapids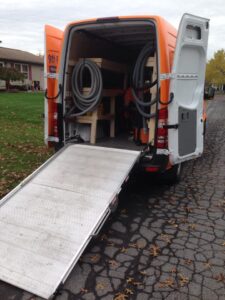 Sewage water damage needs to be handled with extreme care not to contaminate all areas of the property and affect your health.
Whether your home has old plumbing or your toilet becomes clogged, 911 water restoration has the experience needed to safely repair any sewage issue that may be affecting your home or business.
Technicians treat sewage backups as emergencies and guarantee to respond within 45 minutes of receiving your call for sewage cleanup services. The Grand Rapids branch is open 24/7/365, so you will always be assisted, no matter what time you call.
Since sewage is a category three water, also known as black water, only trained professionals in the correct protective gear should be allowed near the spill. Otherwise, you may unintentionally spread the sewage to you or loved ones, creating a significant health risk.
Customers do not have to worry about anything except calling 911 Restoration when they need sewage cleanup in Grand Rapids, including the cities of  Hickory, Conover, and Claremont. Repair techs will decontaminate the area, repair any water damage, and remove any foul odors, leaving your property sparkling clean.
So, call 911 Restoration of Grand Rapids today and let our technicians show you how they can turn sewage water damage into the Fresh Start you deserve!
Flood Damage Cleanup After A Sewage Spill
When a sewage backup occurs, it can be severe enough to flood a significant portion of your property and create a sewage spill that needs to be extracted immediately not to risk the health of both people and pets.
Most homes experience sewage water damage in Grand Rapids after a toilet overflows, a septic tank bursts or old plumbing begins to breakdown. Fortunately, our technicians are experienced in remediating all of these issues.
Technicians will administer the sewage cleanup by using high-tech vacuums to remove the bulk of the black water and safely dispose of the toxic waste. They will then use powerful cleaning agents to decontaminate and deodorize the area.
Once the area is dry and clean, repair techs will check for signs of mold, which is known to happen during any property flood. Mold spores can begin to grow within 24 hours of being exposed to moisture, making this step a crucial part of the sewage backup cleanup process.
When a sewage backup impacts your home or business, call 911 Restoration of Grand Rapids immediately to receive the emergency flood cleanup services you need to quickly recover your losses and get your property smelling and looking fresh again.
Full-Service Sewage Cleanup You Can Depend On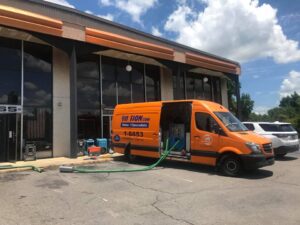 As a restoration company that specializes in every type of disaster cleanup, 911 Restoration of Grand Rapids can be trusted to quickly and thoroughly clean water sewage out of your property.
Time is of the essence when dealing with a sewage backup, because the longer the black water sits indoors, the more opportunity there is for the bacteria to spread throughout the property, even if you can't see it happening.
To be absolutely sure that sewage particles are not being transferred to the unaffected parts of the property, whether it be by coming directly into contact with the sewage or it becoming airborne, you want to create a barrier around the flood and immediately call the professionals.
There is no reason for you to try to clean up a sewage spill on your own and risk the health of you and your loved ones. Instead, let the experts do the dirty work that way you can focus on the other aspects of the remediation process.
Sewage cleanup services are typically covered by most insurance providers, as long as the property owner did not cause the backup. If you are unsure if the sewage water damage in your property is covered, we will provide you with a free insurance consultation.
A staff member will go over your insurance policy with you and help you submit the claim to your insurance provider. This way, you can have peace of mind knowing that everything was file correctly.
The technicians want you to be able to receive the restoration services you need to get your home back into a clean, safe state that you and your family can enjoy. So, call 911 mold restoration today, and we will give you the Fresh Start you deserve!
Serving the communities of Wyoming, Reed City, Remus, Rockford, Rodney, Sand Lake, Sears,Six Lakes, Sparta, Spring Lake, Stanwood, Trufant, Walkerville, West Olive, White Cloud, Zeeland and surrounding areas.