Can Your Dishwasher Lead to Water Damage?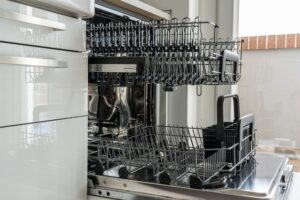 There are various causes of water damage, and even a little amount of water can cause significant structural damage. Water damage is also linked to various health conditions and indoor mold formation. Water damage is a serious safety and health hazard that is extremely common. One in of 50 homeowners file a water damage claim each year.
If you want to prevent water damage and save your property that you consider your lifeline, it's important to understand the causes of water damage. There are various causes of water damage, including burst pipes, foundation leaks, faulty appliances, clogged gutters, condensation from AC, blocked drains, etc.
Out of all the causes of water damage, one primary cause is dishwasher leaks. Sometimes dishwasher leaks because of the overflow, while other times, loose valves are the ones to be blamed. In this article, we'll tell you all about it and how you can prevent it.
How Can Your Dishwasher Cause Water Damage?
There are various causes of dishwasher leaks. From slow drips to a waterfall, dishwasher leaks are anywhere in between. Let's talk about the most common reasons for leaks here:
Over time, the hoses and valves of your dishwasher can get loosen up or damaged. The common site for failure is the valve that allows water to enter the chamber of the dishwasher. The longer you have your dishwasher, the more chances there are of the connections and hoses of the dishwasher to sustain cracks and get loose. To prevent leaks, make sure to regularly check the hoses for cracks and check if they are securely connected.
It's not that common, but using the wrong dishwasher detergent can also cause your dishwasher to leak. Make sure not to use regular dish soap because too much foam can cause your dishwasher to leak. The detergent can bubble and put pressure against the door seal, causing a major leak. To prevent dishwasher leaks, make sure to use powder capsules or liquid detergent.
One of the primary causes of dishwasher leaks is overfilled dishwashers. Your unit might be taking in more water than it should, causing the water not to drain properly. When you overfill the dishwasher, it leaks from the doors. Float prevents the dishwasher from overfilling with water. They sometimes stop working properly, especially if they get caught on something, resulting in leaks from the doors.
Faulty appliances like dishwashers, washing machines, and air conditioners can cause leaks that can damage your property and put your health at risk. To prevent dishwasher leaks, it's important to make sure that you don't overload the dishwasher, choose the correct type of dishwasher, and regularly check its hoses for cracks.
If you think that dishwasher leaks can't cause much damage, then you are mistaken. Even a little amount of water can cause mold formation and significant damages to the floors, walls, and electrics. Therefore, it's important to regularly check your appliances for leaks.
Who Should I Call if Water Damage Causes Structural Damages to My House?
If your property suffers water damage, it's important that you call home restoration experts to extract the water from the house, dry the rooms, make necessary repairs, and odorize the space.  The process of extracting water and restoring your house after water damage is called water damage restoration.
Professional home restoration experts make sure to remove the water from the house and thoroughly disinfect the area to prevent health risks. Water damage can cause serious health threats. Therefore, professional home restoration experts don't recommend homeowners to take charge of water damage restoration.
Water damage restoration is the process when a team of trained home restoration experts arrives at the property that has suffered water damage and cleans it thoroughly, along with replacing and repairing the affected items.
Restoring your house following a water disaster can take anywhere between a few days to a few weeks, depending on the level of water damage. It is important to immediately call professional home restoration experts to start drying the property because homeowners have only 24 to 48 hours to prevent mold growth.
Home restoration companies not only extract water from the property and properly disinfect it, but they also make sure to check the house for mold growth. Because of the excessive water, there's always a chance of mold growing in the darker areas of the house.
Searching for a Skilled and Experienced Home Restoration Company in Grand Rapids?
Dealing with water damage is not easy at all. In situations like these, you need to have a reliable home restoration company by your side that can take charge of the cleanup and fix all the repairs. One such company is 911 Restoration of Grand Rapids.
The home restoration company is backed by trained home restoration experts who have been restoring properties for quite some time now. The home restoration experts arrive at the location within 45 minutes and take a thorough look at the damages to come up with a restoration plan.
911 Restoration of Grand Rapids restores both residential and commercial properties. Water damage restoration is not the only service that home restoration experts offer. Restoration services like fire and smoke damage restoration, mold removal, sewage backup cleanup, and disaster restoration are also offered by the home restoration company.
The company operates 24/7 to help home, and business owners deal with flooding and other disasters.